Google Drive for Document Storage and Collaboration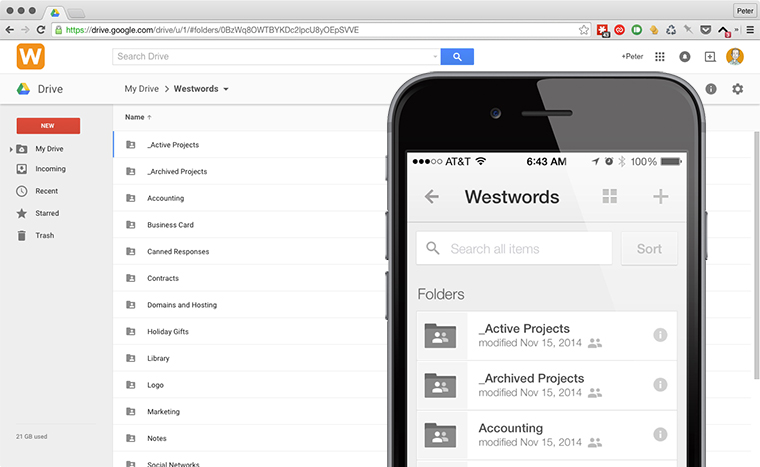 Having a team that is spread across two bordering states (let alone across the country or World) can be challenging.  Sharing files and collaborating can become a challenging proposition.  Emailing files back and forth can become confusing and detrimental to getting work done.  Luckily there are great solutions to closing the distance gap between teams and allowing them to share and work on documents together and avoid these problems.
Westwords initially relied on emailing files back and forth or dropping them on FTP servers while working on a project.  Then Google Drive came out and allowed us to essentially have a file server in the cloud. We can easily sync and share files between our computers, phones and web. Our email inboxes are free from large files and confusing versions of documents. We can simply toss our files in a folder on our computers and they sync up to the Google Drive servers.  The document collaboration features also allow us to work through a document just like we are in the same room.
You can access Google Drive from the web, upload your files and create/edit documents right there in your web browser just like you would with Word or Excel.  If you install the Google Drive application to your computer, you can keep all or some of your documents synced.  Documents created on the Google Drive website will be saved to your computer as a shortcut that will open the document on the web.  Another option is to use Insync instead of the official Google Drive app.  Insync will sync all of your files from Google Drive, but it has the ability to convert your Google Drive documents to Microsoft Office versions.  So your Google Drive Document would be a Microsoft Word and so forth.  Any changes you save will automatically be synced to Google Drive.
Google Drive can also be accessed from your smartphone or tablet by installing the app.  This allows you to browse your entire Google Drive storage and edit documents just as you would on your computer.
To learn more about Google Drive, Bradley Chambers has created an excellent screencast series called Learning to Love Google Drive.  He walks you through an introduction of Google Drive and all of the basics to get you started storing your documents in the cloud and collaborating with your team on the web.
Google Drive is included with a free Google account, however there are many paid storage plans you can upgrade to.
Link